Looking for fireworks to enjoy around Portage County?  We found a few locations with plans to light up the sky.
Garrettsville Summerfest
Gigantic Fireworks Display by the Garrettsville Area Chamber
Date:  June 24, 2023
Time: 10pm
Festival dates: June 23-25, 2023 
Location: Summerfest Midway
Main Street, Garrettsville, OH
www.garrettsvillesummerfest.com
---
Kent Heritage Festival
Date: July 1, 2023
Time: Festival: 9am-11pm | Fireworks: dusk
Location: Kramer Ball Fields
Kent, OH
website
Live music and entertainment on two stages, 15 local foodies, local artisan vendor booths, non-profit information booths, classic car show, Ducks River Race, children's activities including Safety Town and games, fireworks at dark, AND downtown restaurants, Haymaker Farmers' Market, breweries, coffee shops, art galleries, retail shops, DORA, and more!
---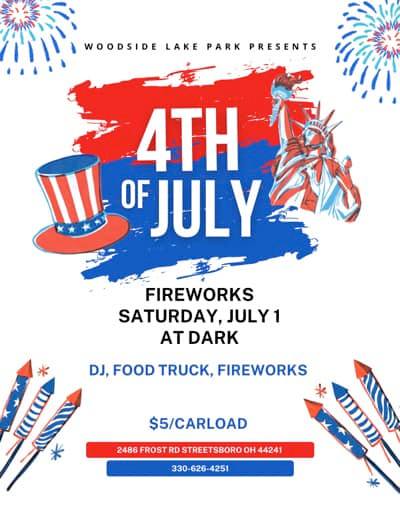 Woodside Lake Park
Date: July 1, 2023
Time: 9:00 pm (at dark)
Location: 2486 Frost Road
Streetsboro, OH  44241
330.626.4251 | woodsidelake.com
DJ, Food Truck, Fireworks.
• $5/carload.
If you would like to come and swim for the day, the lake will be open from 11am-7pm.
• $6 for regular swimming and fishing.
•$16 for an inflatables wristband.
That gives you access to stay for fireworks. Call the office at 330-626-4251 with any questions!
---
Hiram Old-Fashioned Fourth of July Fireworks 
Date: July 3, 2023
Time: 9:15pm
Location: Hiram College Football Field
hiram4th.com/
---
Aurora Fourth of July Fireworks
Date: July 4, 2023
Time: Dusk
Location: The fireworks are shot off behind the ball fields on W. Pioneer Trail. We recommend Kiwanis-Moore Park for the best views! Rain date: Wednesday, July 5
For more information see Aurora event listing.
---
Nearby community fireworks:
Akron 
Date: July 4, 2023
Time: 9:45 pm
Neighborhood fireworks display locations:
Patterson Park Sports Complex  and Akron Executive Airport
Akron Rubber Ducks
Date: July 4, 2023
Time: 9:45 pm  (end of the game)
Canton
McKinley Presidential Library & Museum Fireworks
Date: July 3, 2023
Time: 9:45 pm
Entertainment: 7:30 pm "Jimmy and the Soul Blazers"
Food Trucks will be on-site.
Location: 800 McKinley Monument Dr. NW, Canton, OH
Facebook event listing
Hudson 
Date: July 2, 2023
Time: Dusk
Location: Barlow Farm Park
1965 Barlow Road, Hudson, OH