'Tis the season for tapping trees, collecting sap and making delicious Ohio maple syrup.  It's also the season to enjoy a few area pancake events.
Cash Farms Pure Maple Syrup
Dates: March 4 and 11, 2023 (Ohio Maple Madness Tour)
Open every Friday and Saturday in February and March.
Time: 10am – 5pm
Location: 7057 Virginia Road, Atwater, OH 44201
Facebook page. 
Come watch us produce delicious maple syrup in our wood fired evaporator. Sample the different grades of syrup to find your favorite. Try our syrup infused with cinnamon, vanilla, blueberry, or coffee. Browse our selection of maple syrup, maple candy, maple toffee, maple caramels, candied pecans, maple sugar, suckers & our famous maple candied bacon. Open for guests from 9am to 5pm every Friday & Saturday in February and March. Tours available by appointment. Contact Jason for more details.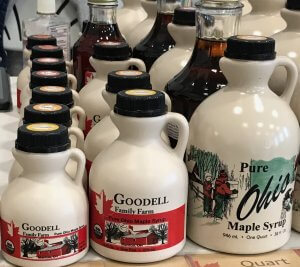 Goodell Family Farm
Dates: March 4-5 and 11-12, 2023 (Ohio Maple Madness Tour)
Open: Saturday 10am – 5pm | Sunday Noon – 5pm
Location: Shalersville Township
9090 OH 44, Ravenna, OH 44266 (corner of OH 44 and OH 303)
website
Come visit our 7th generation family farm. The Goodells have been producing maple syrup since 1825 and continue that tradition today. Visitors can tour the sugarhouse to learn how maple syrup is made. Also, take a walk in the sugarbush to enjoy the beauty of the woods and see the tapped maple trees and maple tubing collection system. Our award winning certified organic maple syrup and maple products will be available for purchase.
Kent Lions Club Pancake Festival 
Date: Sunday, March 5, 2023
Time: 8am – 1pm
Location: Stanton Middle School Cafeteria
Adults $8.00, Children 10 & Under $5.00. (Dibe-In, pick-up).
Tickets are available now from any Kent Lion.
You can also contact me, Tony DeLuke, (330) 830-3117.
(Dine-in or pick-up)
Bring your old eye-glasses & hearing aids. FREE Glaucoma Eye Screening.
PANCAKE BREAKFAST – All you can eat.
Date: March 18, 2023
Time: 8am to 1pm
Location: Shalersville Town Hall
9090 OH-44, Ravenna, OH 44266
Cost:
Adults: $10 | $5 kids 4-12
Kids 3 and under eat free!
Includes: Pancakes, sausage links and your choice of coffee, milk, or juice.