GO GREEN IN PORTAGE COUNTY
Trails lined with tall trees, amazing rock formations, a river with yellow waterlilies and sun-basking turtles. Portage County welcomes nature lovers of every age, ability and interest. In this county filled with hidden gems, hikers can find peaceful solitude on shady trails, and kayakers can enjoy long stretches of open water, with little traffic.
By Jill Sell
Grab your walking sticks and venture to one of Portage County's three Ohio state parks. With four hiking trails, plus the Buckeye Spur Trail (part of Ohio's Buckeye Trail), West Branch State Park gives youngsters, serious backpackers, and everyone in between a chance to explore nature's beauty in every season. Trails range from .8 miles to 2.25 miles, and all are classified as moderate challenges.  For those who own horses and want to enjoy the park's riding areas, West Branch State Park has primitive (non-electric) equestrian campsites available in a separate bridle camping area.
Nelson-Kennedy Ledges State Park in Nelson Township features four opportunities: the White, Yellow, Blue and Red Trails, ranging from ¾-mile to 1-mile and easy to difficult. All are clearly marked and well maintained. The trails lead to outcroppings of rock, fascinating boulder formations, waterfalls, ferns, moss and the popular Devil's Icebox, an intriguing cavern.
Wingfoot Lake State Park in Mogadore, once private green space used exclusively by Goodyear Tire and Rubber Company employees, is one of the state's most user-friendly parks. Known for its beautiful open, grassy areas and 444-acre lake, Wingfoot attracts walkers, joggers, dog owners, picknickers and recreational sport enthusiasts. Keep your eyes to the sky, as the iconic Goodyear blimp can be seen across the lake in good weather.
The Storybook Trail is a ½-mile paved loop. According to Park Manager Mike Studeny, the trail is geared toward "young folks, but grandparents say they love it, too." As you walk the path, follow the seasonal nature story and participate in activities like "count the acorns." A remodeled Nature Center opened in June, filled with information about the area's oak, maple, pine and sassafras trees and wildlife in the adjoining 614-acre Wingfoot Wildlife Area.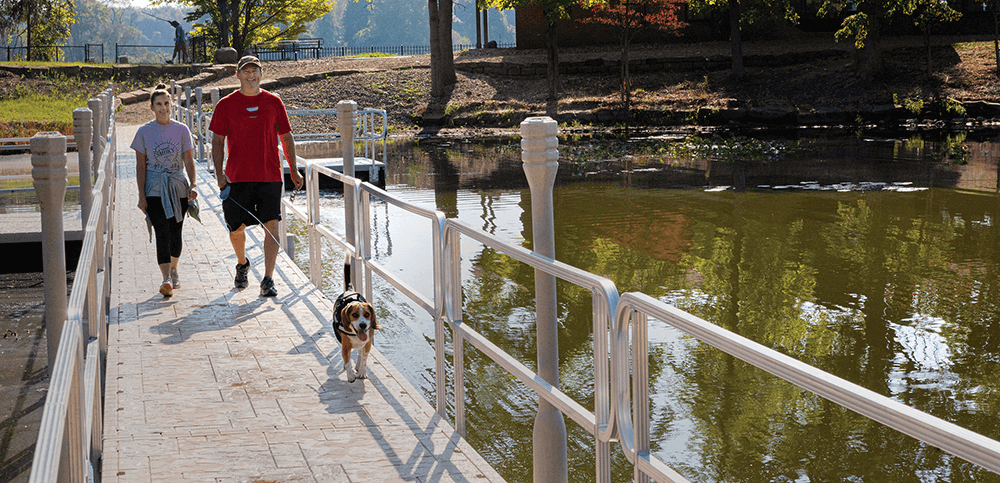 West Branch State Park is considered a birding hotspot in Portage County, with 185 reported species sightings. The park's swamp white oaks and beech-maple forest attract a large variety of songbirds and other species, like the elusive black-billed cuckoo.
Kirwan Reservoir is home to waterfowl and shore birds including sandpipers, gulls and terns. Few things are more exciting than witnessing a dramatic water landing.
Wingfoot Lake State Park and its adjacent wildlife area boast numerous species of warblers, vireos, osprey, kingfishers and numerous migrating waterfowl. Birders and families come from miles away to glimpse bald eagles. At Nelson-Kennedy Ledges State Park, turkey vultures watch you from the trees as much as you look up to see them.
Pro Tip: Don't bother with toy binoculars for kids. A smaller, lighter, but high-quality pair will be easier and less frustrating for children to use. Birding is an activity outdoor explorers of all ages can enjoy.
West Branch State Park offers five launch ramps that provide safe entry for boats, making the lake accessible for water lovers. The West Branch Marina offers seasonal docks, boat (pontoon, kayak and jet ski) rentals, gasoline, snacks and other supplies.
No boat? No problem. Shoreline access points (and a valid Ohio fishing license) give anyone a chance to catch muskellunge, catfish, walleye, bluegill and crappie. Swimming is allowed in designated areas.
A floating boardwalk at Wingfoot Lake State Park takes you right onto the water and features accessible fishing piers at each end. Fish-attracting lights under the float encourage evening fishing. Shoreline fishing may net you bass or bluegill. Boats at idle speed may use two launch ramps available at the Wingfoot Lake Wildlife Area.
The 100-mile, U-shaped Cuyahoga River was formed from the last glacial retreat in this country. The river was a vital transportation route for American Indians and provided water to supply parts of the Ohio and Erie Canal. Today, the river attracts kayakers, canoeists, fisherman and nature enthusiasts.
Kayaking is a long-time favorite outdoor activity. Doug Hershman and Pam Holliday, the owners of Breakaway Excursions, encourage people to get out on the water. At their Mantua location you can book a 2–3 hour, 5-mile paddle or a 3.5–5 hour, 8-mile adventure down the Cuyahoga River. Breakaway Excursions provides everything you'll need for a great time, including clean, comfortable kayaks and a quick lesson for all first-time paddlers.
CHEERS TO THE GREAT OUTDOORS
After a day of hiking and paddling, there's no better way to top off the experience than celebrating with a glass of local ale or wine. Even though North Water Brewing Company just opened in 2020 in Kent's Mill District, it already has a loyal following. Founder Don Schjeldahl names his craft beers after unique Kent landmarks and experiences, nearby tributaries of the Cuyahoga River and railroad terms in honor of Kent's historic train connection. Clown Wagon Coffee Cream Ale's name is based on another word for caboose.
The wacky patio at Mike's Place has a definite Key West theme with turf, palms, and red and blue umbrellas. A couple more margarita machines have been added, bringing even more fun to this wonderful, crazy family-owned restaurant and bar that has been making people smile since 1987. Cody Kostensky, son of Mike, says Joe Mama's Extreme Waffle is a best seller — think sweet and savory breakfast foods combined into a mouthwatering stack.
One day simply isn't enough time to explore all Portage County has to offer. Plan to stay a few days so you can take advantage of the great outdoors and the vibrant and bustling college town of Kent.
Art galleries, local shops and cafés line the quaint downtown streets. One must-stop location is City Bank Antiques. If you ask owners Karen and Don Barrett, "Do you know what time it is?" they've heard that joke since 1995, but the clock repair experts will still welcome you to their historic building, built in 1911. Today the business specializes in vintage American pocket watches and clocks, music boxes, vintage jewelry and wristwatches, and other antiques.
Prepare to get silly at Off the Wagon, a family-run business featuring all things weird, goofy and downright funny. This quirky store lines its shelves with hilarious gag gifts, but pranks and jokes aside, it is also a true toy store offering board games, toys and puzzles to delight customers of any age.
Enjoy Watermelon Nitro Tea mojitos or Cookies n' Cream lattes on the new two-tiered patio outside Bent Tree Coffee. Take home a bag of Black Squirrel coffee, a dark roast with hints of chocolate. And if you bring your own container, you can also get free coffee grounds for your compost pile. Last Exit Books and Coffee House supplies caffeine, reading and listening materials all in one cozy location. For Christian books and church supplies, visit Logos Bookstore.
When Brian and Rebekah Gillespie became the new owners of Tree City Coffee & Pastry & Wine Bar, they were excited to establish a balance of old favorites and exciting new offerings. The infamous Stelvis sandwich (peanut butter, honey, bacon and sliced bananas) is still available, but so are pastries supplied by women-owned bakeries, wine on tap and more coming soon.
Brimfield Bread Oven makes all its goodies from scratch, including its woodfired pizza featuring an organic wheat flour crust. Stahl's Bakery has delighted customers with its scrumptious breads, cookies and muffins since 1949. The independent bakery is well-known for its caramel-filled brownies and frosted cookies.
Fill your bag with more goodies at Haymaker Farmers' Market, Portage County's oldest producer-only market. The market's outdoor season runs from April through November; the market is hosted indoors the remainder of the year. Market Manager J. Andrew Rome says the high quality of food supplied by vendors now includes new vegan vendors offering plant-based ice cream sandwiches, sausage, cheese and more.
Franklin Mills Riveredge Park provides the perfect spot to picnic with your farmers' market bounty. After your picnic, take a stroll along the Cuyahoga River, admire the park's waterfall and spot wildlife like great blue herons.
START PLANNING YOUR ADVENTURE.
Round out your trip with lodging, restaurants and more activities to fill each day.
Find lodging with easy access to downtown Kent and outdoor recreation.
From pizza to burgers, ice cream cones to beer on tap, there's options for everyone.
Looking for more ideas? Check out Central Portage's other attractions.