This winter season we invite you to come and explore our three state parks, warm-up with a delicious hot beverage at one of our cozy cafés, shop our downtown Main Streets, and sample our local restaurant favorites. Portage County is the perfect spot to enjoy a girl's getaway or a family weekend adventure.
Our winter playground.
Throughout the winter season outdoor adventurers from all over make a trek to Portage County to enjoy winter hikes, ice-skating, cross-country skiing, sledding, ice fishing, birding, and more in one or all our three state parks.
Can it get any better than FREE? Not only are our Ohio State Parks free, but downtown Kent's new outdoor ice-skating rink, Kent Skates, is also FREE. The rink is located on a section of East Erie Street in Downtown Kent. The rink is open Wednesday through Sunday 10 am to 8pm, November 19, 2022, to February 26, 2023. Free skate rental is also available.
If indoor winter activities are more your speed, the indoor ice arena at Kent State University (KSU) is the perfect place to enjoy an afternoon of public ice skating or watch a KSU hockey game.
Snowy forecast? Grab your sled and enjoy a ride down one of our area sledding hills. Make snow angels or a snowman in the fresh snow. Don't forget your four-legged friend, all our parks are pet friendly as well as some of our local hotels.
Warm up!
After a long day of winter fun with your friends or family take time to warm up at one of our locally owned coffee shops, wineries, or breweries.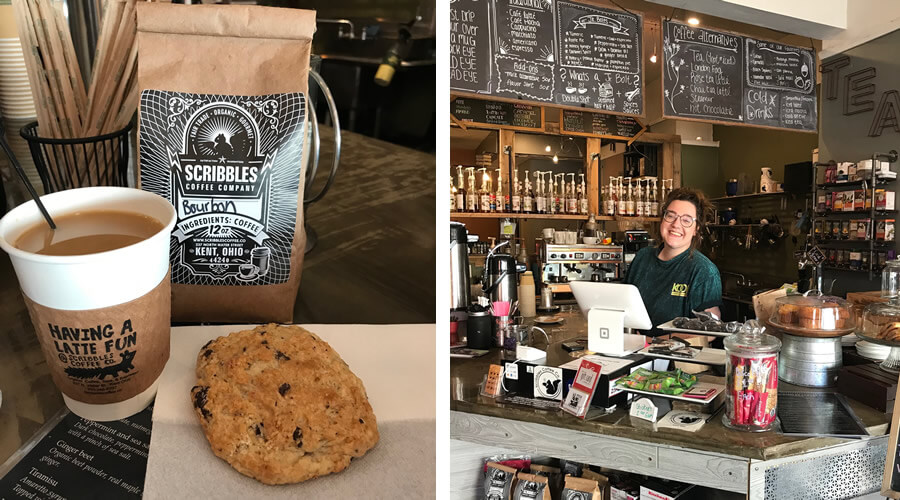 At Scribbles Coffee Co. ask for their special coffee infused with blueberry extract. It's an area favorite. If you stop at Tree City Coffee & Pastry, nothing goes better with a cup of coffee than one of their pastries, cookies, or delicious classic peanut butter sandwiches. Go for the Fluffernutter! At Bent Tree Coffee snag a bagel and ask for it to be topped with jam locally sourced from area Barton Farms and Gardens.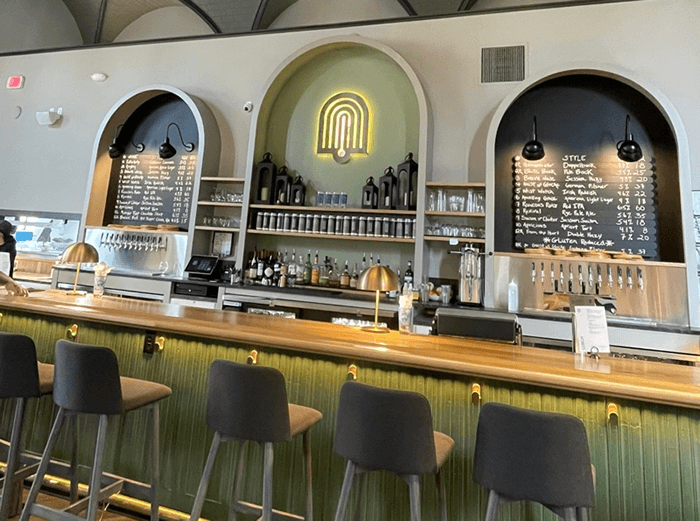 If craft beers are more to your liking, you will find two distinctively different craft brewers located in Downtown Kent. Bell Tower Brewing Co. is brewpub located in an old church that offers hand crafted beers and cocktails. A food menu is available 4-8pm, Thursday through Sunday.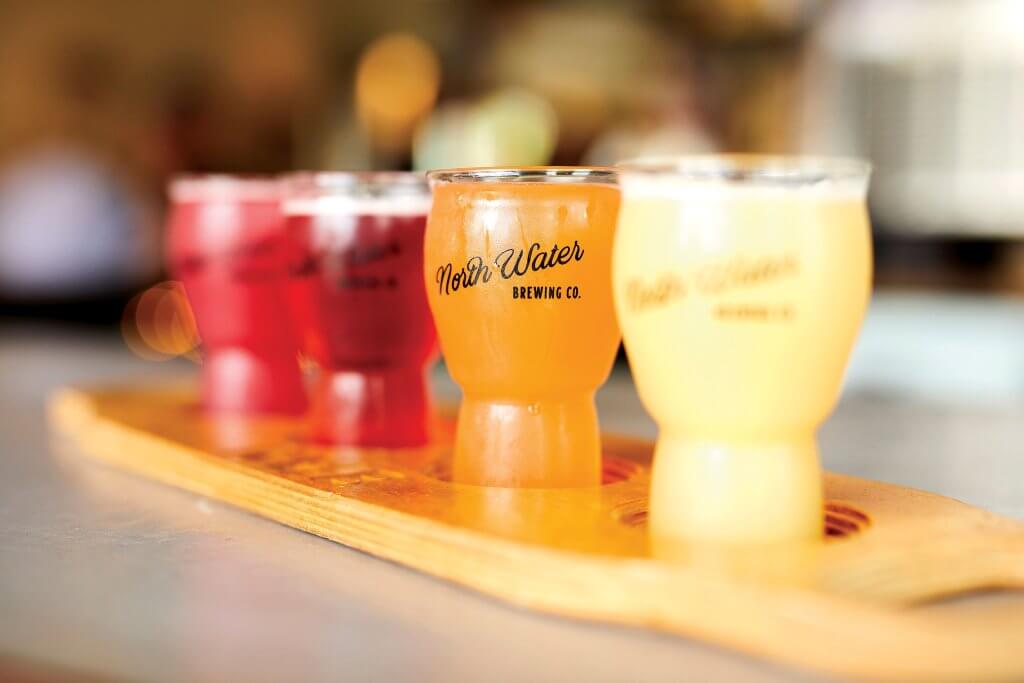 North Water Brewing "manufactures high-quality, full-flavored artisan ales and lagers using premium ingredients and time-tested brewing methods."  Although a regular food menu is not available, you will want to check their website for upcoming food truck dates.
Taking time to do a little shopping.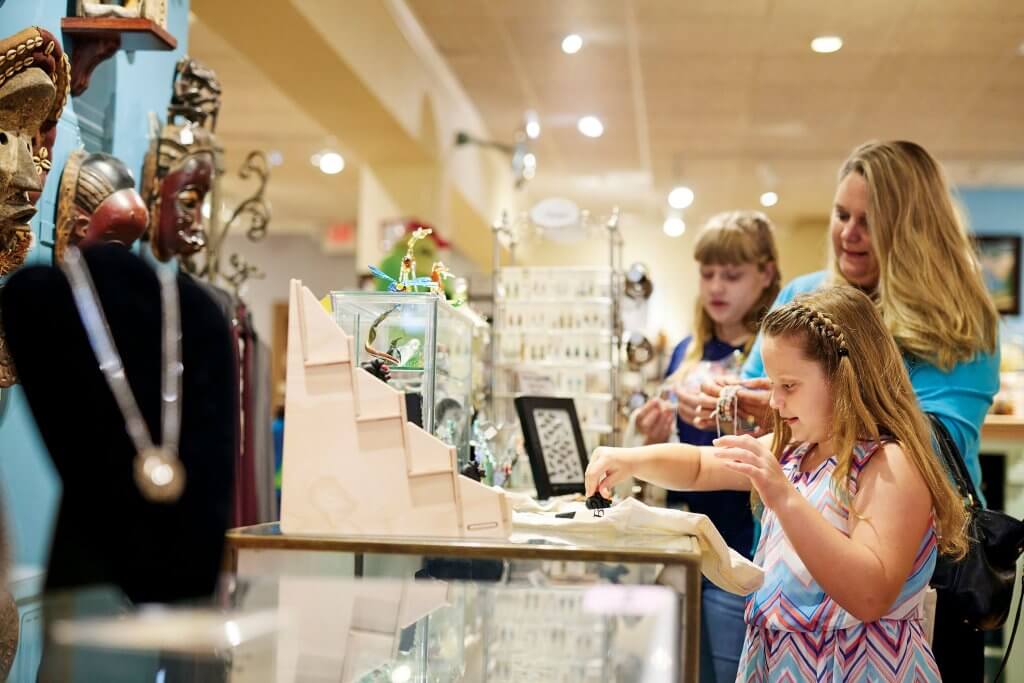 If your idea of a winter getaway includes shopping, we have you covered. In Downtown Kent you will find a delightful store called the Off the Wagon. A perfect stop for those unusual weird and funny gifts, and children's toys. "Popped!" is the local popcorn and candy shop. Their caramel corn is delish. For those who play music there is Woodsy's Music. Guitars, amplifiers, musical instruments and more can be found in Woodsy's. If old vinyl is more your speed, Last Exit Books buys and sells a variety of vinyl.
Every Saturday, except holidays, local vendors selling baked goods, fresh produce, prepared foods, handmade soaps, maple syrup and more set-up at Haymakers Farmers' Market from 9am to 1pm..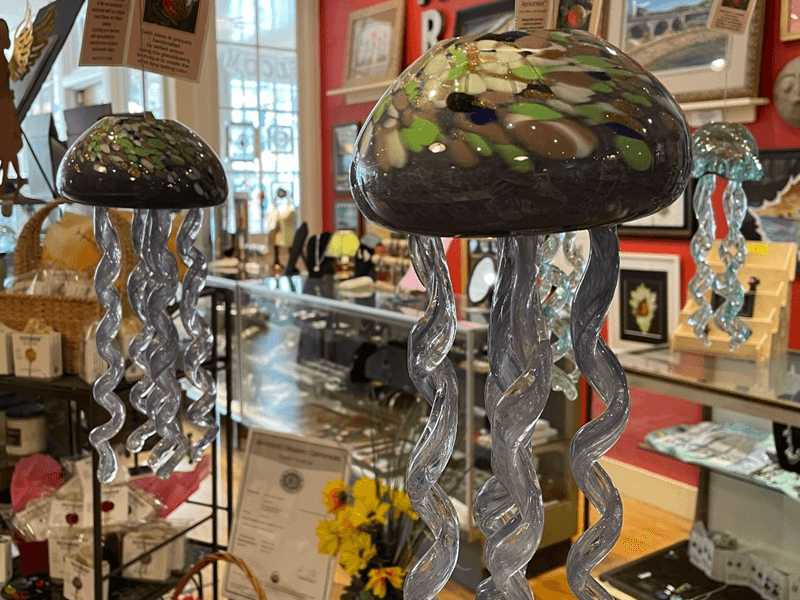 A visit to Kent would not be complete without a stop at McKay Bricker Framing. Handmade gifts and jewelry, candles, cards, art pieces, glassware and a selection of Kent's iconic black squirrel merchandise can be found at this local small business.
A short distance from Downtown Kent you can shop till you drop at Aurora Farms Premium Outlets or at Hartville Marketplace.
Eat like a local?
If you want to eat like a local, then you need to stop at Ray's Place or Mike's Place. At Ray's Place you will want to order their "world famous" MOFO Burger which Chef Michael Symon talked about on the Food Network show the "Best Thing I Ever Ate."  This double cheeseburger is topped with bacon, sautéed mushrooms and the works! Don't forget to order a basket of their fresh cut fries.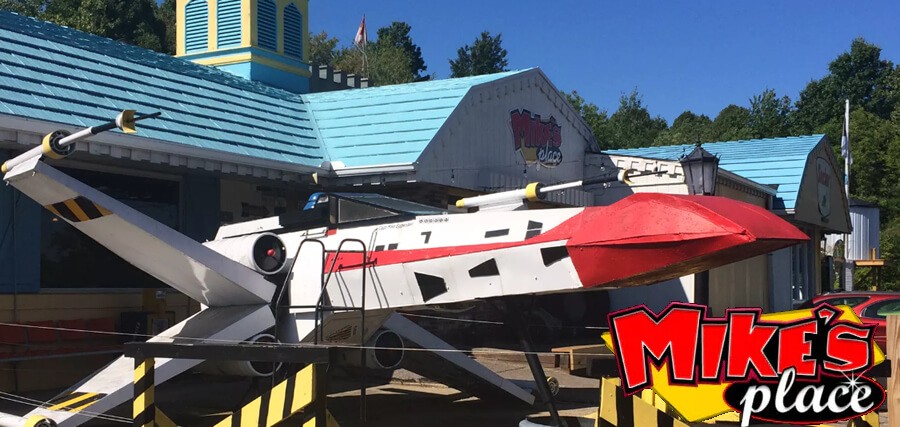 Yes, you have arrived at the right place. Yes, you are not seeing things. Yes, there is a Star Wars replica X-Wing Fighter jet in the parking lot at Mike's Place. And if you think the outside looks crazy, wait until you step inside.
Please allow at least 15 minutes or more to decide what you would like to eat. Mike's considerable menu, which opens to the size of the table, is filled with fun menu descriptions and food selections, including a sandwich called the "Son of Chuckie", a grilled Texas triple decker with peanut butter, chocolate, chips, bacon, bananas, and crisp fries.  Mike's is a great location to gather and enjoy a meal with family and friends.
Constructed as a silent movie and vaudeville theater, today The Kent Stage plays host to approximately 150 concerts a year, including the Kent Blues Festival, the Kent State Around Town Music Festival and more. Check their website for upcoming events.
This winter we invite you to gather your family and friends, get off the beaten path and enjoy our hidden winter treasure. Reach out if you have any questions or would like to receive one of our free Explorer's Guides to Portage County.