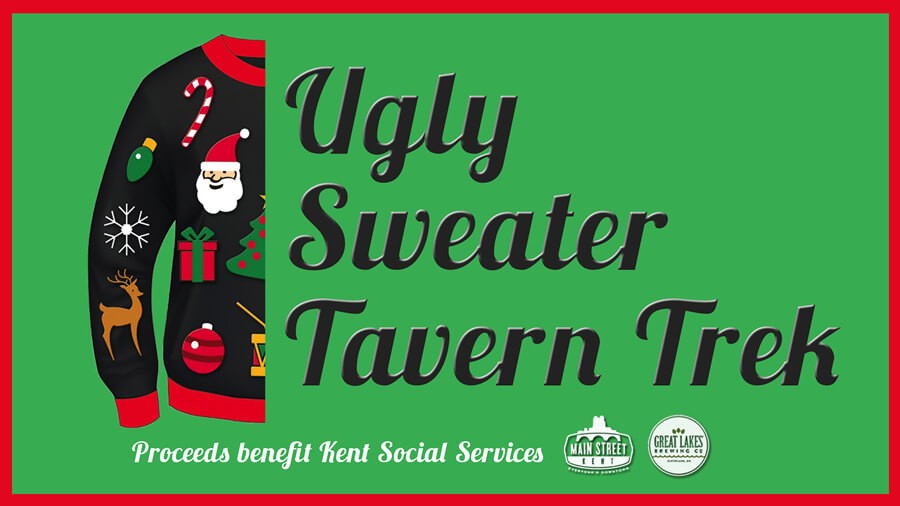 Proceeds to Benefit Kent Social Services
Kent, OH – Ugly Christmas sweaters once signified unwanted holiday gifts from long-forgotten relatives. Now they represent a fun forerunner to the holidays! To ring in the 2018 holiday season, Main Street Kent and the Great Lakes Brewing Company will host the third annual Ugly Sweater Tavern Trek, beginning at 5PM on Saturday, December 8 in downtown Kent.
The Ugly Sweater Tavern Trek starts at the Venice Café (163 W. Erie St.), where attendees can check in from 5PM to 8PM to pick up their Great Lakes Christmas Ale pint glasses and trek "passes." Pass holders will be entitled to $5 GLBC Christmas Ale pints at participating businesses. Attendees may visit as many or as few locations as they wish. The thirteen participating locations include: Venice Café, Water Street Tavern, Ray's Place, The Loft, Zephyr Pub, Panini's, Bricco, Treno Ristorante, Franklin Hotel Bar, Buffalo Wild Wings, Dominick's, 157 Lounge, and Barflyy Retro Bar & Arcade, a business soon to open in downtown Kent. Event tickets are available for purchase online for $15 (including service fee): https://www.eventbrite.com/o/main-street-kent-16485227431. All Ugly Sweater Tavern Trek ticketholders will be entered in a raffle prize drawing. Prizes will also be awarded randomly throughout the evening for the "Ugliest Sweaters" worn by attendees. This is a great opportunity to explore downtown bars and restaurants, enjoy time with friends, and kick off the holiday season!
The Ugly Sweater Tavern Trek is an all-weather event and tickets are non-refundable. Participants are encouraged to designate a driver, or make plans for a taxi or other ride service. Event proceeds will benefit Kent Social Services.
Main Street Kent is a non-profit organization focused on the revitalization of downtown Kent. It is an affiliate of the national Main Street program and the Heritage Ohio program. The Main Street Kent website is http://mainstreetkent.org/events/uglysweatertrek. Telephone: (330) 677-8000. Email: info@mainstreetkent.org.