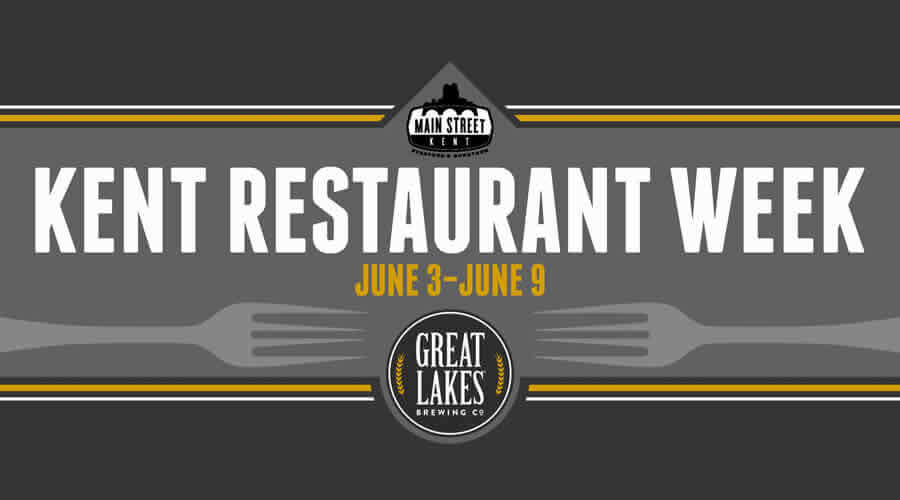 The downtown Kent food scene has much to offer, with an incredible number of independently owned and operated restaurants presenting a world of flavors to fit anyone's taste. From slow-cooked barbeque and towering cheeseburgers to fresh sushi and exquisite small plates, Kent eateries can satisfy a range of cravings. Now is the chance to explore Kent's best eateries, as Main Street Kent partners with Great Lakes Brewing Companyfor the first Kent Restaurant Week, Sunday, June 3 through Saturday, June 9.
Each participating restaurant will have a special "prix fixe" menu designed especially for Restaurant Week, offering a three-course meal for one set price. (Hours of operation and price will vary by restaurant.) Each special menu will highlight some of the best offerings at each place, and offer items at a fixed, discounted price, to entice people to try new establishments and new culinary options.
Diners who partake in Restaurant Week will be eligible for prizes, including $25 gift cards to participating restaurants, as well as items and gift cards from Great Lakes Brewing Company. During the week, diners will be randomly selected while dining at these establishments to receive a prize. It's a great opportunity to explore the variety of eateries in downtown Kent, and have the chance to win a gift card and come back for more!
Participating restaurants include: 157 Lounge, Belleria Pizza & Italian Restaurant, Burnside Barbecue, Erie Street Kitchen, Franklin Hotel Bar,Laziza, Mr. Zub's Deli – Kent, NINETEEN10, Ray's Place Kent, Tree City Coffee & Pastry, Treno Ristorante and Twisted Meltz.