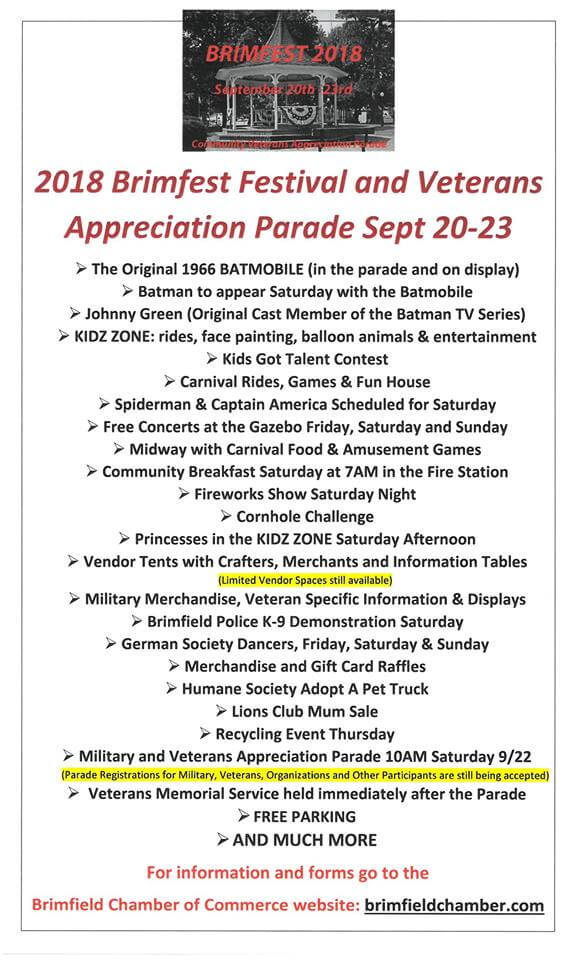 For Brimfest schedule and contest forms click here.
The original 1966 Batmobile and Johnny Green will be making an appearance on September 22, 2018. Times TBA.
The annual Brimfest Festival features carnival rides and games, a funhouse, a Kids Zone with kids rides, face painting, henna tattoos, a balloon artist and princesses, several carnival food merchants will be operating throughout the Midway. Fireworks show is scheduled for Saturday night at 10PM weather permitting.
 There will be displays and attractions from community members, local retailers, local vendors and crafters. Saturday the 22nd we will have a very special attraction, "THE BATMOBILE will be in our parade and will be on display at the festival.
 Free live music, entertainment and demonstrations during the festival, featured bands; Gypsies in The Palace Island Band, The Time Machine, American Steal, local artists; Emily Gambone and Allegiance Band.
 Our Veterans Appreciation and Community Parade will be Saturday the 22nd at 10AM. Prior to the parade there will be a community and Veterans pancake breakfast at the Brimfield Fire Department. This parade will feature and honor several generations of veterans. The parade will include antique and collectable cars, trucks, tractors, there will also be horses, wagons, military vehicles, Field High School marching band, Honor Guard, scouts, local businesses and much more.
Everyone is invited and encouraged to attend our Veteran's Memorial Service at the Restland Cemetery Veterans Memorial after the parade.
For additional information please contact Jeff at jamarchion@yahoo.com or the Brimfield Chamber website.