Do you love cake, cookies, cupcakes, ice cream, pies, chocolate, chocolate topped popcorn, and sugary specialty coffee drinks? Then we have road trip for you! This self-guided tour of Portage County sweet spots is sure to make your sweet tooth happy.
Things to know before you go:

Before heading out, call ahead or check venue websites for current hours. (Some bakeries are not open on Monday.)
Pack a cooler. A great way to store your goodies.
Take cash. If you stop at the Haymakers Farmers' Market (Saturday stop).  Some vendors only accept cash.
BAKERIES
It all starts with a cup of this, a teaspoon of that and just grows from there.  You will find a wonderful selection of croissants, scones, muffins, cupcakes, cookies and more at our area bakery stops.
Kent Area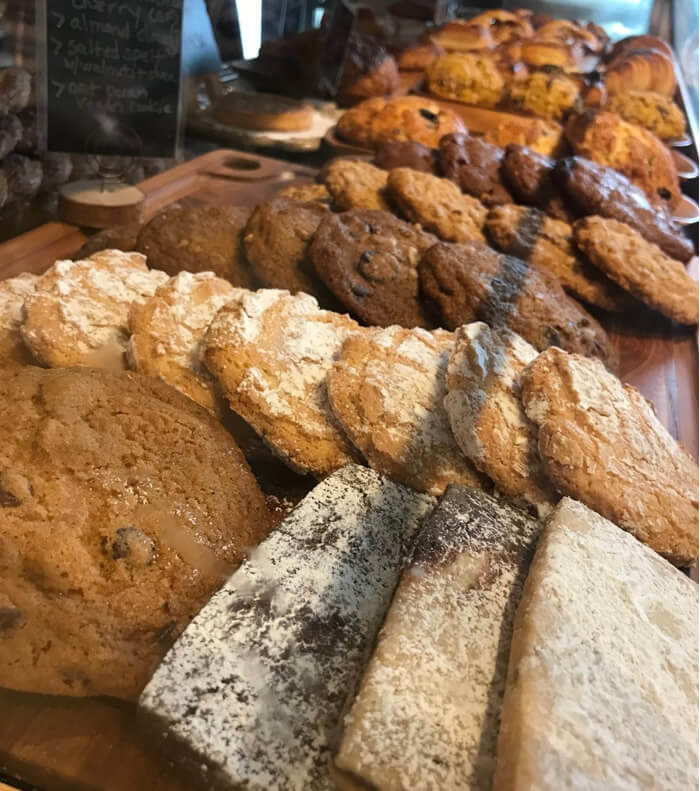 BRIMFIELD BREAD OVEN
3956 OH-43 #2, Kent, OH 44240
(330) 474-7800 | brimfieldbreadoven.com
Organic grains and local ingredients. "Brimfield Bread Oven is a European style bakery in Brimfield Township, Ohio. Everything is made from scratch with simple ingredients, hand-shaped and baked in a wood-fired oven."
A few of our favorite selections: Chocolate Croissant, Sea Salt Focaccia, Baguettes, Cranberry Walnut Sourdough, seasonal pies and tarts, and the homey maple granola. Check their website for baking schedule.
DAISY POPS 
154 N. Water St., Kent, OH 44240
330.541.0908 | daisypops.com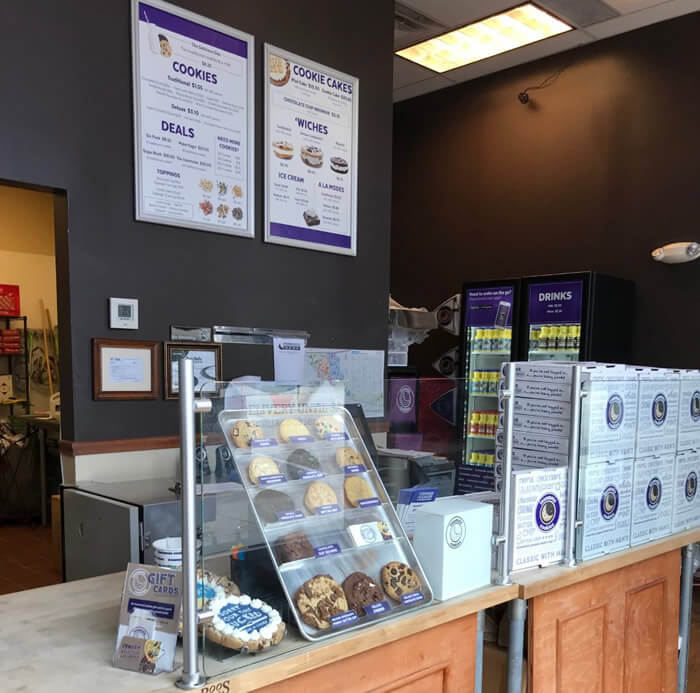 INSOMNIA COOKIES
295 S. Water St., Kent
(877) 632-6654 |www.insomniacookies.com
Warm cookies right from the oven. Grab one of their 12-packs and sample them all!  You can also have your cookies with ice cream!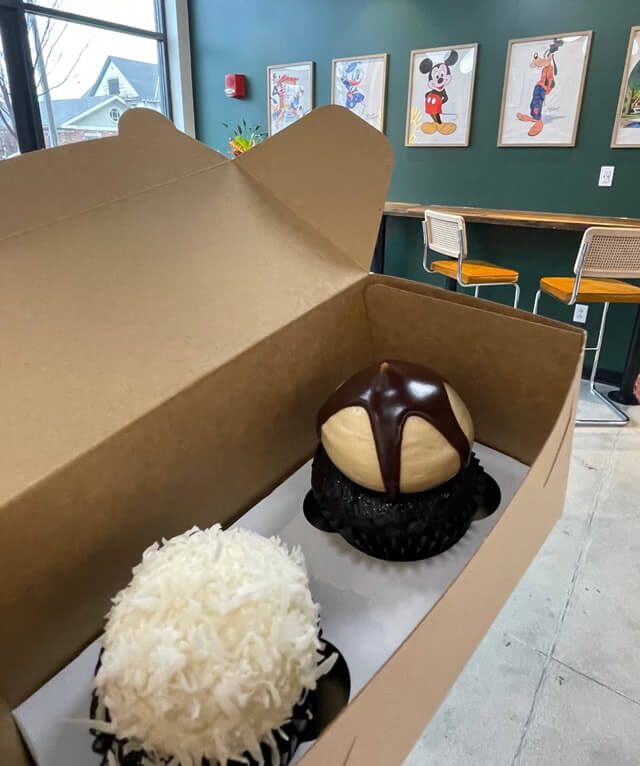 ROCCO'S CUPCAKE CAFÉ
295 S. Water St., Kent, OH 44240
roccoscupcakecafe.com
If you love made-from-scratch cupcakes that are baked fresh every morning, Rocco's is your place. Check their website for current cupcake and cake pops selections.
(Pictured: Coconut  and Chocolate Peanut Butter.)
STAHL'S BAKERY
411 E. Main St., Kent, OH 44240
(330) 673-9244 | www.kentbakery.com
Stahl's is your old hometown bakery.  This Kent staple has offering breads, cakes, cookies, pastries, and more since 1949. Get there early if you want the best selection.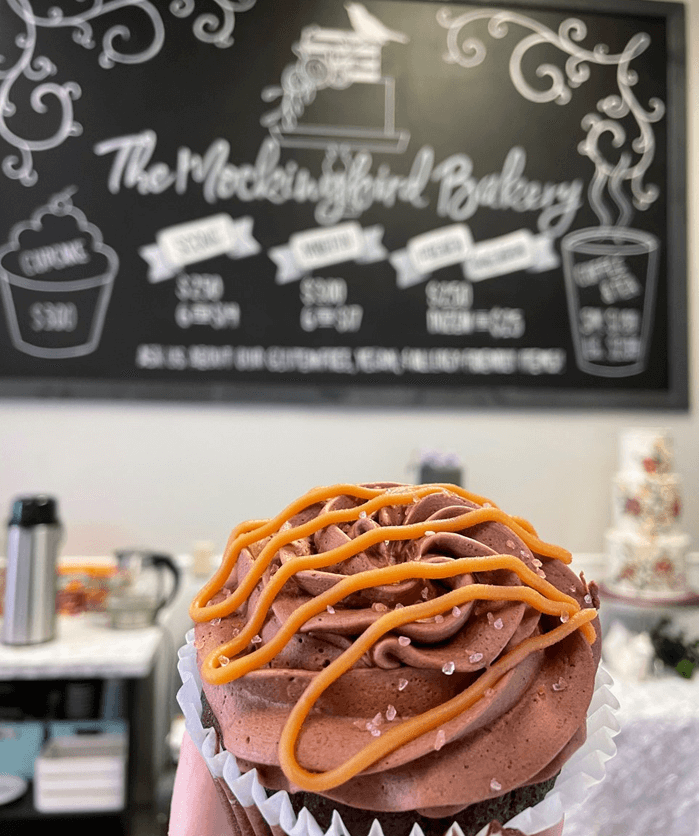 THE MOCKINGBIRD BAKERY
154 Cherry St., Kent, OH 44240
(330) 593-5058 |facebook.com
Your sweet tooth will thank you.  Macaroons, cupcakes, cakes, cookies, and more. Head to their Facebook page for tasty treat updates.  Gluten free and vegan options are usually available.
Mantua Area
Currently closed.
TOP TIER PASTRY ( New location opening this later this year.)
Prospet St., Mantua, OH 44255
(330) 289-1999 | toptierpastry.com
Duffins (donut meets muffin), cinnamon rolls, sugar cookies, tarts, buckeyes, scones, fougasse, and more can be found lining the bakery cases at this pastry shoppe.
Ravenna Area
SUNSHINE CUPCAKES ETC
221 S. Prospect St., Ravenna, OH 44266
(330) 577-4222| facebook.com/sunshinecupcakesetc
---
CAFÉ' & COFFEE SHOPS

Local cafe's and coffee shops are perfect stops to grab your favorite cup of Joe and treat yourself to one of their delicious bakery items.  Many of the bakery items, if not made on the premises,  come from local bakers.
Aurora Area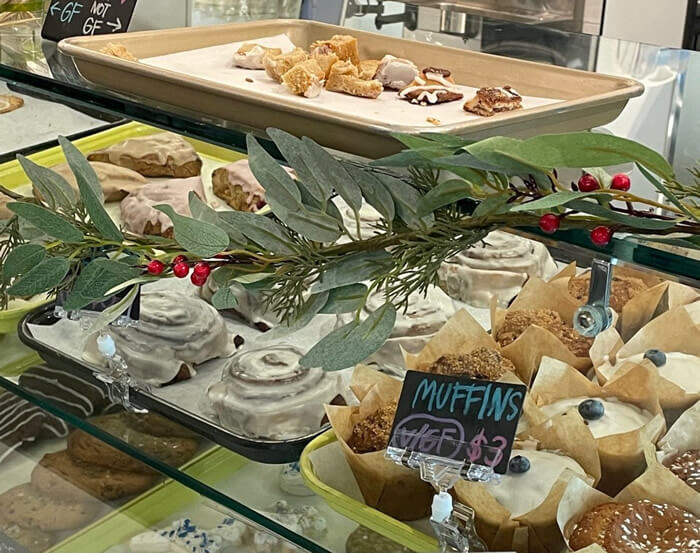 EVEXIA CAFE
46 South Aurora Rd., Aurora, OH 44202
(330) 954-8081 |  www.evexiacafe.com
Evexia love tree nuts! And according to their menu, most of their items contain them.  Vegan and gluten-free options are available. Their very berry smoothie is a delicious sweet combination of acai, strawberries, blueberries, raspberries, banana, date, and yogurt.  If there is one thing I would have you put on your "must try" list, its their pop tarts.  Evexia's menu also includes breakfast and lunch options.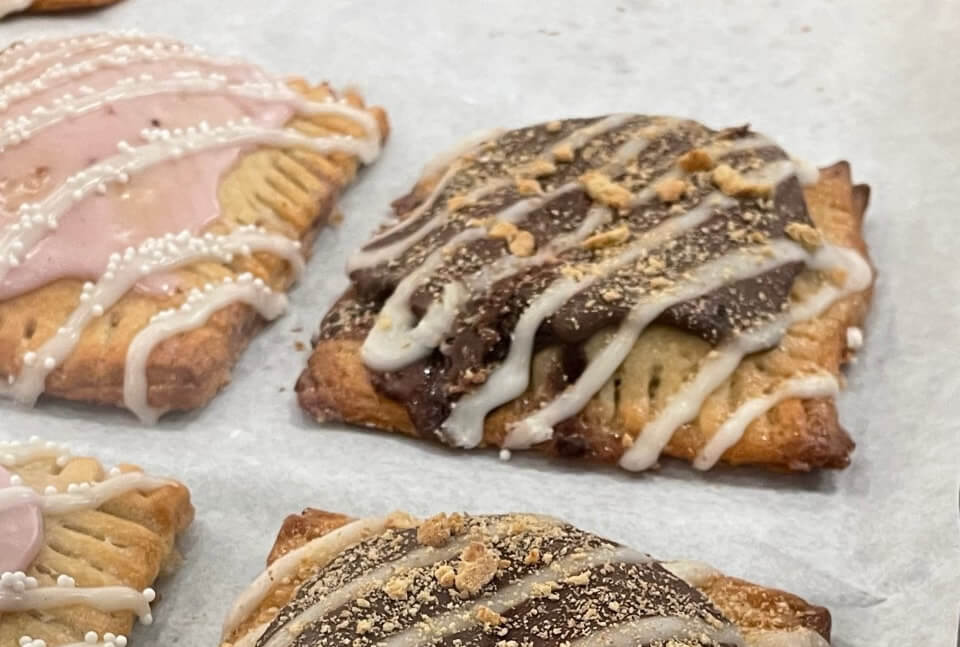 Garrettsville Area
CELLAR DOOR COFFEE CO.
8138 Water St, Garrettsville, OH 44231
(330) 977-7237 | https://www.cellardoorcoffeeco.com/
Kent Area
BENT TREE COFFEE ROASTERS
313 N. Water St., Kent, OH 44240
(330) 474-7255 | benttreecoffee.com
SCRIBBLES COFFEE CO.
115 N. Water St., Kent, OH 44240
(330) 677-1479 | scribblescoffeecompany.com
TREE CITY COFFEE & PASTRY
135 E. Erie St., Kent, OH 44240
(330) 673-5522 | www.rootedinkent.com
Order a cup of coffee, and select a whoppie pie, oatmeal pie or a slice of cheesecake.
Mantua Area
RESTORATION 44 COFFEE COMPANY
10675 S. Main St., Mantua, OH 44255
(330) 357-8044 | r44coffee.com
If you are looking to enjoying more than just coffee, Restoration 44 serves up delicious frozen mocha's, Caramel Macchiato's, frozen hot chocolate and more.
---
FARMERS MARKET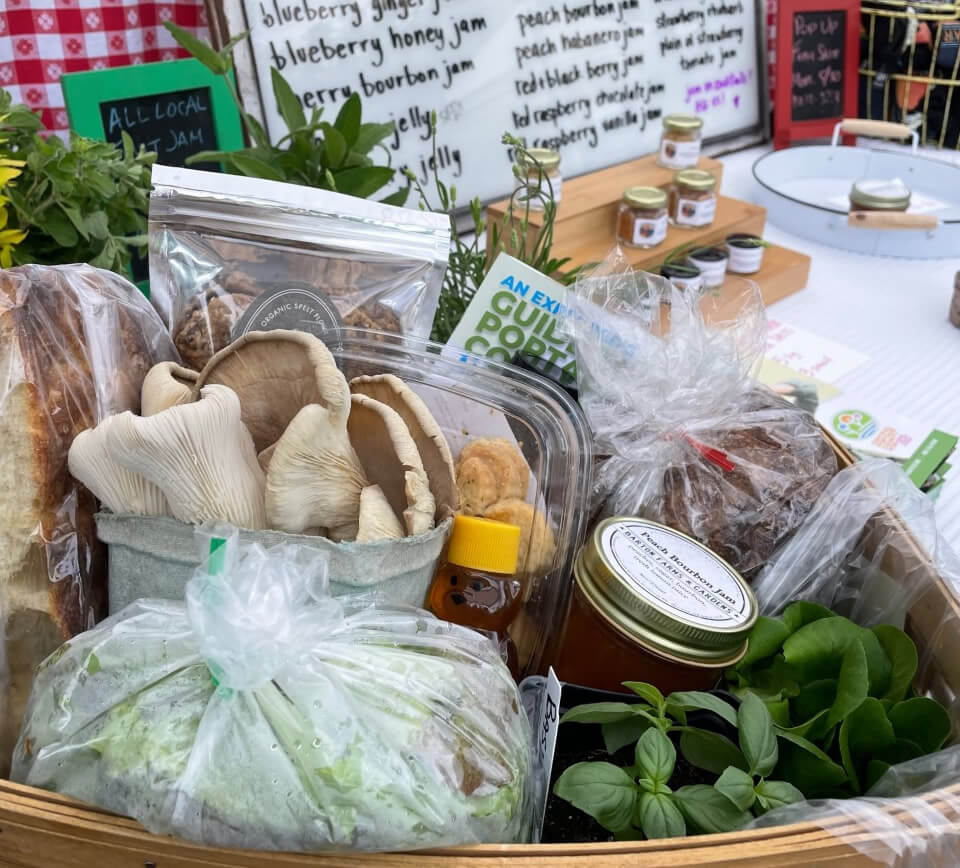 HAYMAKERS FARMERS' MARKET
Open year-round – in downtown Kent on Franklin Ave. from April through November. Our Winter Season is indoors from December to March.
haymakermarket.com
Every Saturday morning, except holidays, the Haymakers Farmers' Market host local vendors from around the area. You will find jams, sweet treats, fresh fruit and more. Bring a basket or a shopping bag to carry all your goodies back to the car.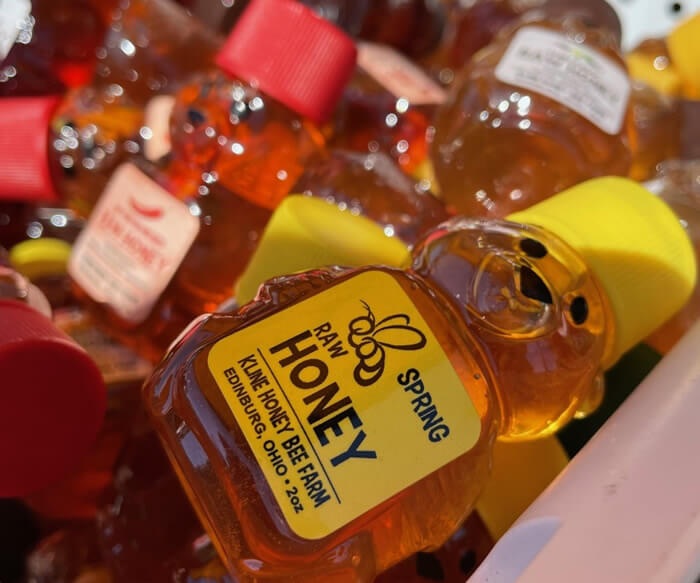 Kline Honey Bee Farm is one  the markets regulars. Delicious Portage County honey.  The Bee Farm also has an online shop. 
---
ICE CREAM & CUSTARD SHOPS
You know how it goes. You scream. I scream. We all scream for ice cream and custard too!.
(Please note that some of our ice cream stops are seasonal.)
Aurora Area
FANTASY DELIGHT
21 N. Aurora Rd., Aurora, OH 44202
(330) 954-9365 | fantasydelighticecream.com
Kent Area
KATIE'S KORNER ICE CREAM
1412 S Water St, Kent, OH 44240
(330) 677-1999 | Facebook
STODDARD'S FROZEN CUSTARD
1321 W Main St, Kent, OH 44240
(330) 673-2991 | stoddardsfrozencustard.com
Homemade, made daily, custard style ice cream is what you will find at Stoddard's.  For over 75 years Stoddard's has been a local favorite for ice cream, sundaes, milkshakes, malts and more, . The "flavor of the day" is always posted online.
Mantua Area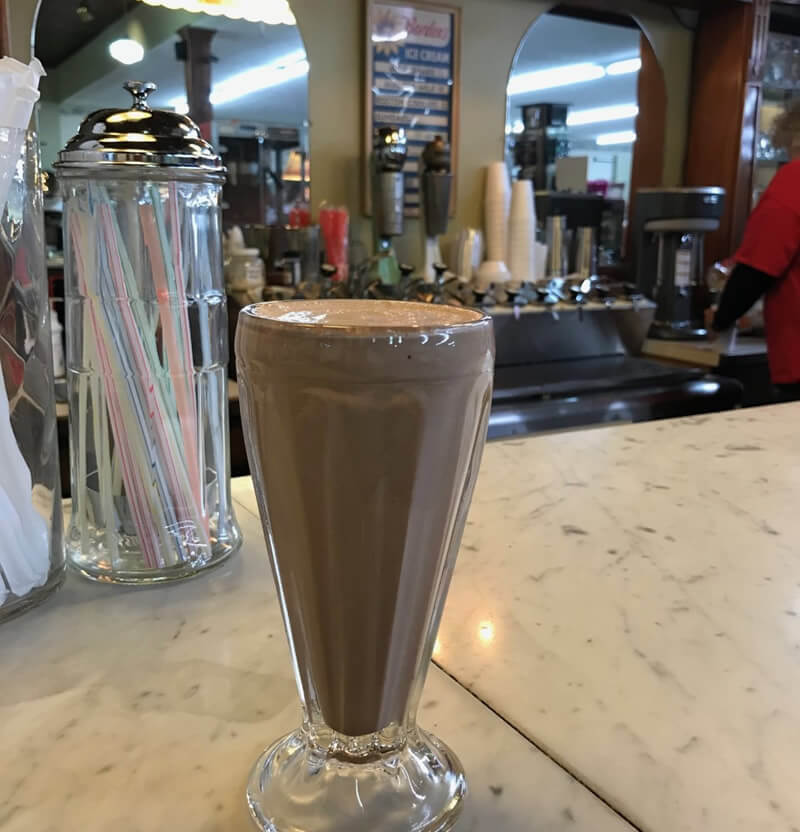 MANTUA STATION DRUG CO.
10870 OH-44, Mantua, OH 44255
(330) 274-2209 | mantuastationrx.com
Is there anything better than a made-to-order old-fashioned milkshake from a soda fountain ? We don't think so.  This charming actual drug store with its adorable caboose is the perfect stop to do a little shopping and sit down and enjoy one of the many creations offered at the soda parlor.
THE CHILLING STATION
10585 Main St., Mantua, OH 4425
chillingstation.net
Check website for ice cream flavors of the month. 
Ravenna Area
VANCE'S CARRIAGE HOUSE CREAMERY 
252 W. Main St. Ravenna, OH 44266
vancescreamery.com/86-2/
Streetsboro Area
STRICKLAND'S
9070 Cleveland-East Liverpool Rd., Streetsboro, OH 44241
(330) 626-2750 | mystricklands.com
Strickland's has been making its rich frozen custard for the Akron and surrounding area since 1936.  In a Turtle sundae or hot fudge brownie sundae, in a sugar cone or waffle cone, or made into a milkshake, Strickland's frozen custard is sure to put a smile on your face.
Suffield Area
KATIE'S KORNER ICE CREAM
1431 State Route 43, Suffield, OH
330.790-3090 | Facebook
---
POPCORN SHOP
Kent Area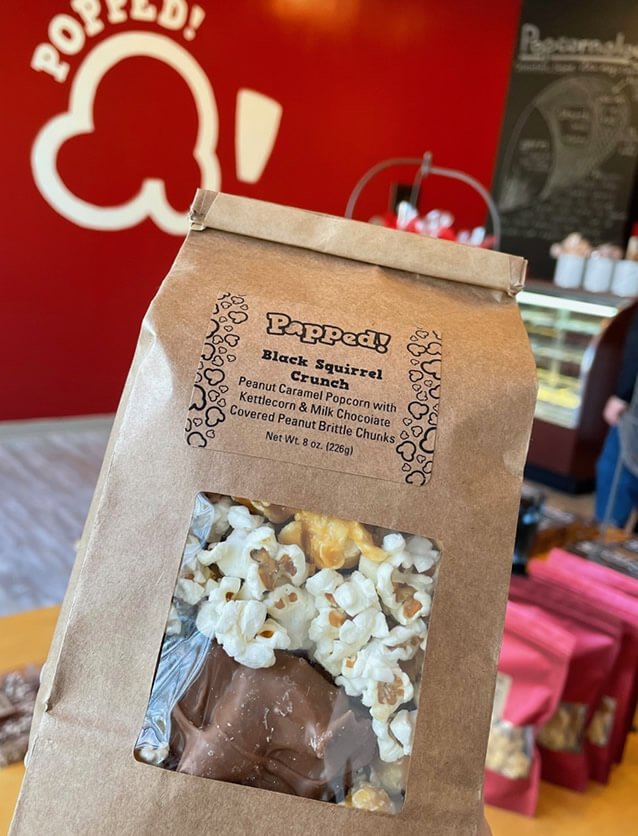 POPPED!
138 E. Main St., Kent, OH 44240
(330) 678-1893 | shoppopped.com
Popped! is Portage County's go to place for all things popcorn. Not only do they make delicious varieties of popcorn, they have specialty popcorn topped with chocolate and mixed with other sweet treats.  May we suggest the Black Squirrel Crunch? They also sell a variety of chocolates.
---
"HAVE TO TRY" LOCAL DESSERTS
Kent Area
Fan favorite: Mama Houk's Original Peanut Butter Pie
MIKE'S PLACE
1700 S Water St #4447, Kent, OH 44240
(330) 673-6501 |mikesplacerestaurant.com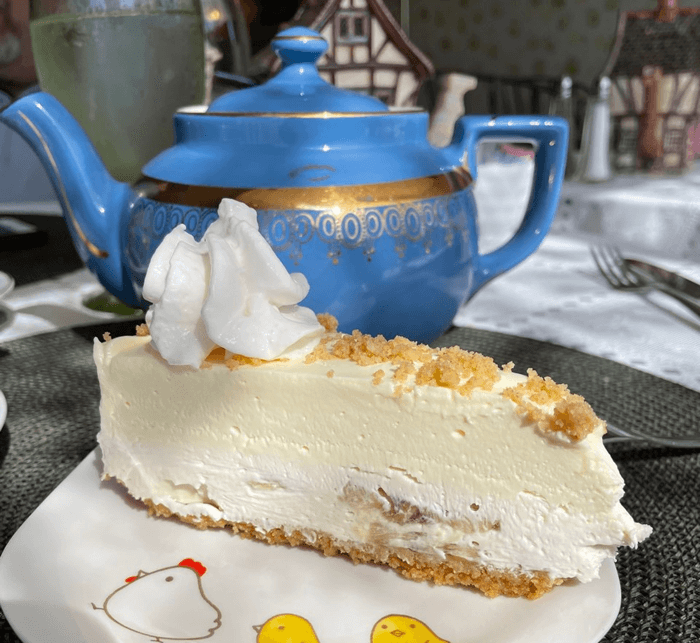 Fan favorite: Banana Cream Cheesecake
 SUSIE K'S CAFE & TEA ROOM
145 E, Main St., Ravenna, OH 44266
(330) 296-3779 | facebook.com
---
SEASONAL FAVORITES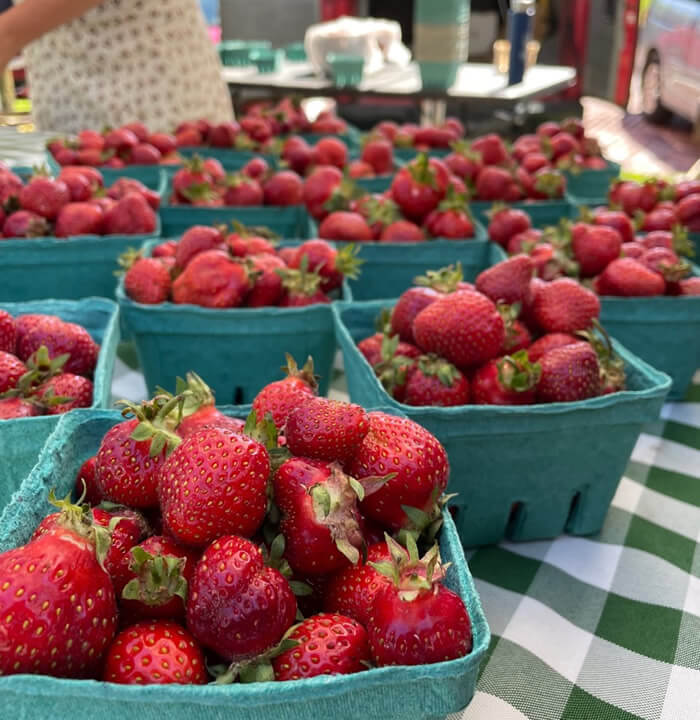 STRAWBERRY SEASON
MONROE'S ORCHARD AND FARM MARKET
6313 Pioneer Trail, Hiram, OH 44234
(330) 569-7464 | monroesorchard.com
APPLE SEASON
BECKWITH ORCHARDS
1617 Lake Rockwell Road, Kent, OH  44240
(330) 673.6433 | beckwithorchards.com
Don't forget to treat yourself to one of their seasonal fresh-baked pies!
MONROE'S ORCHARD AND FARM MARKET
6313 Pioneer Trail, Hiram, OH 44234
(330) 569-7464 | monroesorchard.com
MAPLE SEASON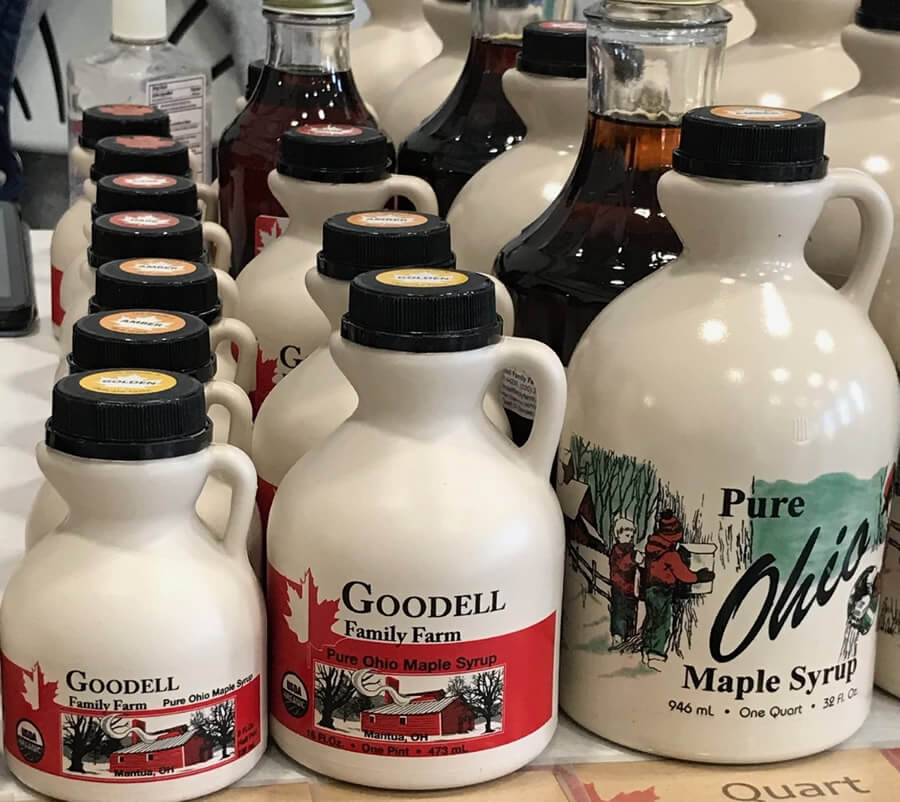 GOODELL FAMILY FARM
10220 Peck Rd, Mantua, Ohio 44255
(330) 322-3725 | goodellfamilyfarm.com
Call ahead if you want to stop and purchase this Portage County favorite. Goodell's delicious maple syrup is also sold at local stores and you can usually find them at the Saturday, Haymakers Farmers' Market.  You have not had real maple syrup until you have maple syrup harvested in Ohio. Your pancakes and French toast will thank you.
---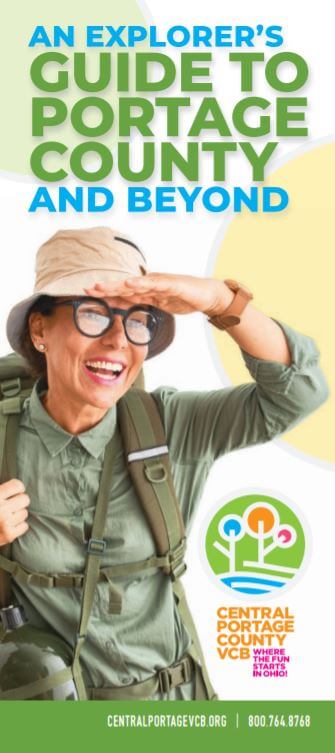 We hope you find Portage County's "sweet side" a fun way to explore our county.  Don't worry about the calories. We have three state parks that you can explore and walk off anything you may find is over your daily intake of calories.
Reach out if you are coming in from out of town and need a place to stay, or if you want to order one of our FREE visitor guides.
---
Editor's note: Any use of the above article or images without prior permission, will be in violation of copyright  | https://www.cellardoorcoffeeco.com/laws.  Photo credits: Diane Rock (My Ohio Fun) and Central Portage County VCB.