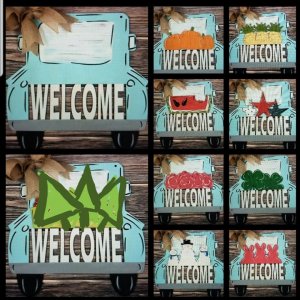 Welcome truck door hanger. It will include your choice of 2 cutouts. Choose (2) from tree, pumpkin, pineapple, flower, stars, watermelon, snowman, bunnies, and clovers. Additional shapes can be purchased for $10 each.
This truck measures 22.5 by 22.5 and the pieces can be changed by attaching Velcro.
Deadline for signing up for this project is May 10th due to shipping unless you contact me personally
$52 includes the truck and your choice of 2 cutouts.
Deadline for reservations – May 12, 2019.