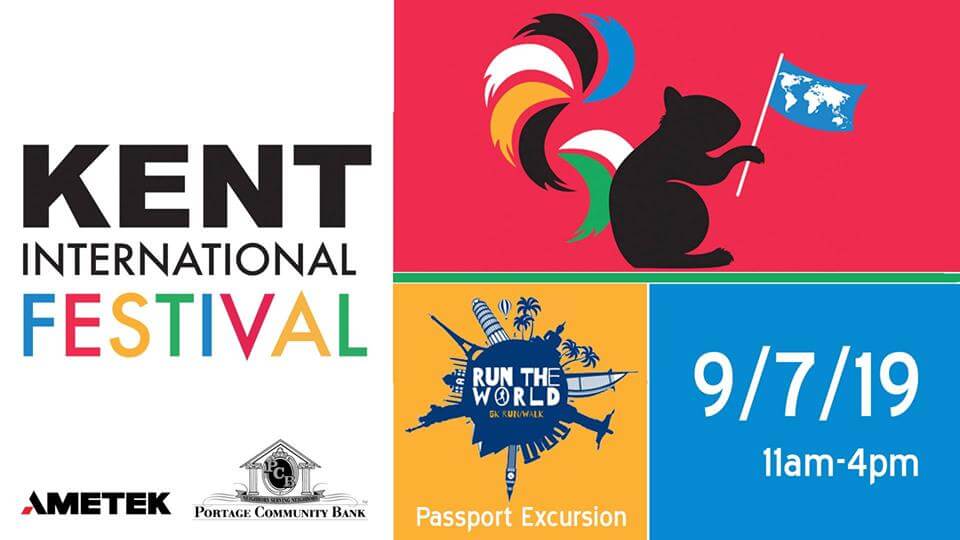 International Festival in downtown Kent. Enjoy live multi-cultural performances at the Dan Smith Community Park and a Passport Excursion at many downtown businesses!
Participating businesses will offer activities and food/beverage samples from the countries they choose to represent during the event. Passports will be available for purchase for $5 each at "Customs" in the Dan Smith Community Park. Passport Excursion participants will receive a stamp for each destination visited. The first one hundred passport holders to return to "Customs" with their completed passports will receive a prize.
To register for the Run the World race, please visit: https://www.kent.edu/RunTheWorld/run-world-kent. Race participants will receive complementary passports in their race day packets.
Participating businesses: Belleria Pizza & Italian Restaurant, Carnaby Street Style, Treno Ristorante, Kent Natural Foods Co-op, Empire Kent, Scribbles Coffee Co., FJKluth Art Gallery, McKay Bricker Framing & Black Squirrel Gifts, Ferrell-Whited Physical Therapy Services – Kent Clinic, Kent State University Hotel & Conference Center, Twist Candy Co., Kent Cycle
FREE Live Entertainment at Dan Smith Community Park
11:30am Sho-Jo-Ji Japanese Dancers
12:30pm Irish Dance by Grace and Lucy Antonucci
1:00pm African Drumming by Olu Manns & Heartbeat Afrika
2:00pm Barefeet Dance Tribe
3:15pm Nepali Dance by Himalayan Arts & Culture Academy
This event is graciously sponsored by Ametek Advanced Motion Solutions and Portage Community Bank.