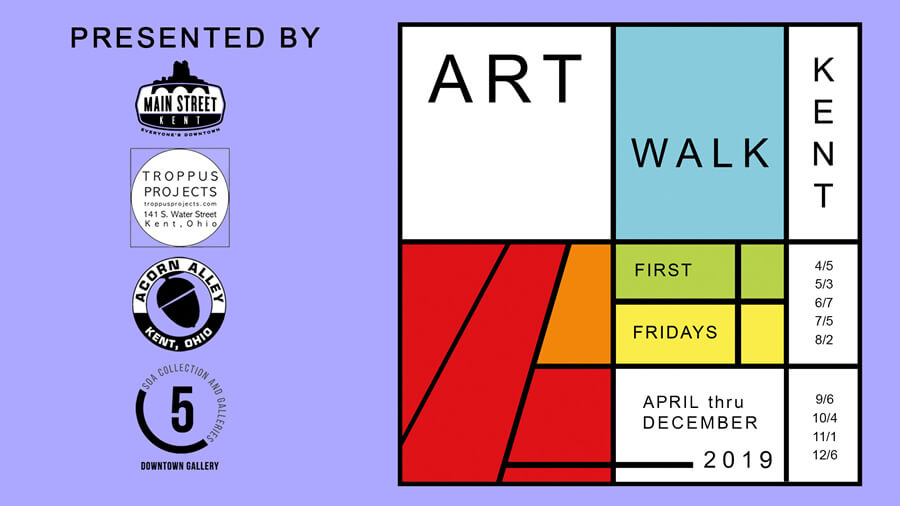 Join us (Main Street Kent)  in downtown Kent for the 2019 series of Art Walks — on the first Friday of every month from April through December! It's a fun way to spend a family-friendly evening in the downtown district, with lots of great eateries along the way. Explore special exhibits, enjoy demonstrations, snacks, hands-on/make-and-take activities and more at these participating locations:
FJKluth Art Gallery
Standing Rock Cultural Arts Events
Each + Every
Kent State Downtown Art Gallery
McKay Bricker Framing & Black Squirrel Gifts
Red Letter Days of Kent
Group Ten Gallery
Handcrafted
Silver & Scents
Squirrel City Jewelers
Troppus Projects
Kent State University Hotel & Conference Center
Pick up an Art Walk postcard at any location and get it punched at each place you visit. If you visit at least four places, you can enter our drawing for a prize donated by one of our galleries/creative businesses.
Sponsored by Main Street Kent, Acorn Alley Kent, Troppus Projects and Kent State Downtown Art Gallery
Check back for details each month. More info also available at: http://www.mainstreetkent.org/events/art-walk/