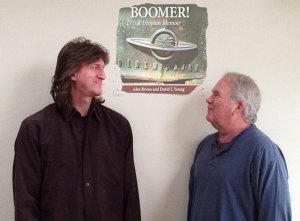 Once in a while… magic happens…. in the musical world it sometimes happens like shafts of sunlight through a steel plate sky illuminating a patch of green somewhere up ahead and calling you to quicken your steps and inhabit that place before it disappears….
Alex Bevan and Dave J. Young approach that kind of event horizon with years of friendship, talent, effort and emotion. These two Northern Ohio originals started working together in 1992 on an "Environmental Fairy Tale" titled, "Who Killed the Dragon?" and continued to create and perform together in various contexts leading up to the highly acclaimed "BOOMER" recording released in 2016.
May 17th at 8pm on the Historic Kent Stage… Alex and David will bring the simple tools of their collaboration to bear. An acoustic guitar, a piano, one journeyman's approach to songcrafting and another's pursuit of melody and sound will gather the strands of twenty-seven plus years of collaboration and lead you toward brighter realms in an otherwise darker landscape.
Brent Kirby will open the show…. Rumor has it that he will be joined by Ray Arthur Flanagan on guitar and Jack Flanagan on keys. Brent is a nationally recognized songwriter, member of the Jack Fords, member of the New Soft Shoe and creator of the 10 X 3 Songwriter Showcase at the Brother's Lounge in Cleveland which just celebrated it's tenth successful year.