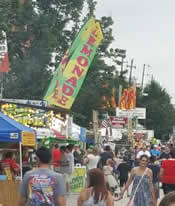 The 23rd Annual Kent Heritage Festival will be held on Saturday, June 30th. The all-day celebration held in downtown Kent runs from 9:00 am – 11:00 pm. Fireworks will be set off from Kramer Ball Fields at 10:00 pm.
The event will include live music and entertainment – much of which is local – all day on three stages located throughout downtown Kent.
There will be a children's play area that will include a rock climbing wall and bouncy house for kids of all ages to enjoy. There will be a variety of food and craft booths, and many more local displays. The family-friendly event that is FREE and open to the public, concludes with a fireworks display at 10:00 pm.
A Classic Car Show, sponsored by Brimfield Insurance, will be located on West Erie and on North Franklin Street. Interested car owners who would like to participate are encouraged to get there early for a good spot.
The Kent Heritage Festival is planned and operated by the Kent Area Chamber of Commerce.