Run That Shall Not Be Named 5 3/4 K, Wobbly Wizard Bar Crawl, Par for the Curse Mini Golf, Wizardly Vendor Village, Sorcerer's Stone Movie, Bell Tower Ball and More!
Kent, Ohio – Main Street Kent's event planning committee and downtown businesses have created some fantastic plans for Wizardly Weekend on July 22 & 23 in downtown Kent. Wizardly Weekend is presented by Meijer and Summa Health, also generously sponsored by Hall-Green Agency, Auto-Owners Insurance, College Town Kent, Portage Community Bank, Off the Wagon, Hometown Bank and the Central Portage County VCB. Beginning Fri., July 22, the fun will begin with The Run That Shall Not Be Named 5 3/4 K — Catch Me If You Can, a fun run for all ages and abilities (walkers, strollers and dogs welcome). Race medals, shirts and bibs complete the race packet, which can be picked up at the race (must register by July 8 to get a shirt). Full details and registration available at https://runsignup.com/runthatshallnotbenamed.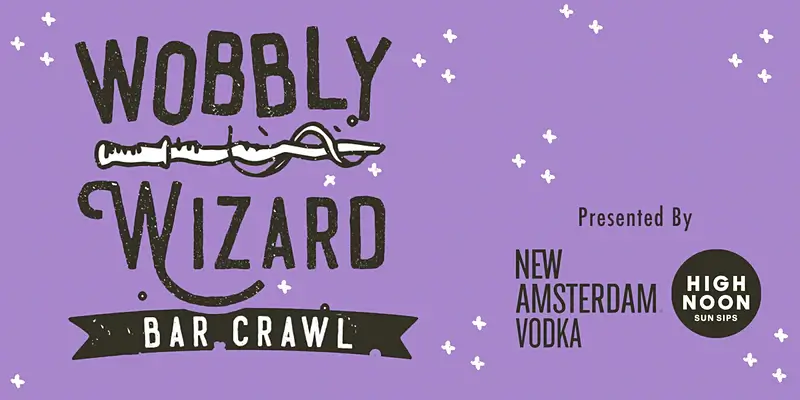 Also on Friday evening will be the return of the Wobbly Wizard Bar Crawl. Guests will enjoy specialty cocktails, wizardly-themed photo opportunities and games along the way. Tickets include house-colored jello shots at check-in, Wobbly Wizard glassware, raffle tickets and more. https://www.eventbrite.com/e/2022-wobbly-wizard-bar-crawl-tickets-361772901487 North Water Brewing Company will host two sessions of free, event-themed trivia on Friday night as well (first come, first serve), and many local bars, shops and restaurants will feature special items including themed cocktails, buttery beverages, chocolate wands, t-shirts, and other merchandise all weekend. Updated information will be available at https://www.mainstreetkent.org/events/wizardly-weekend/ in the weeks leading up to the event.
On Sat., July 23, from 11am to 5pm, a Wizardly Vendor Village on Erie St. will have over 40 booths featuring hand-crafted, event-themed items from leather goods, plush dolls, monsters, creatures, magic wands and potion bottles to licensed Harry Potter merchandise. Painting classes will be hosted by A-Squared Art on Erie St. (indoors at 175 E. Erie St., Suite 101, former location of Handcrafted), with a variety of classes offered for varying ages and abilities. https://www.eventbrite.com/e/332970903937, https://www.eventbrite.com/e/333016199417 and https://www.eventbrite.com/e/333025918487.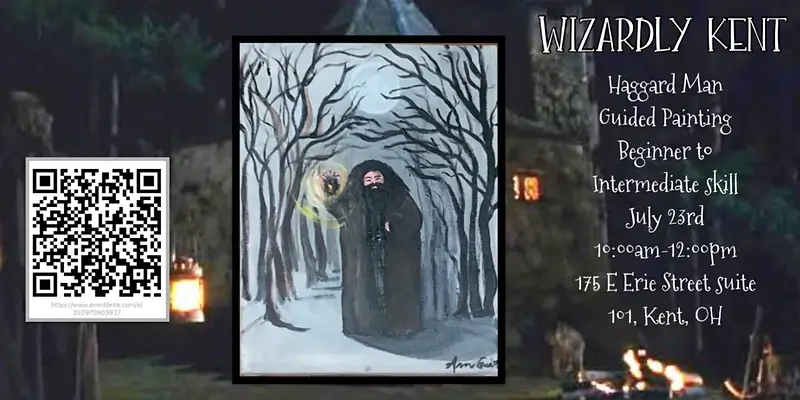 For those looking for a fun indoor activity, The Kent Stage will be playing the movie Harry Potter and the Sorcerer's Stone at 1pm. Tickets are $7 and include a pack of Bertie Botts Beans and glow wand, available at https://www.etix.com/ticket/p/4229612/harry-potter-and-the-sorcerers-stone-kent-the-kent-stage. At the Dan Smith Community Park, the well-known Swish & Flick podcasters will host a live podcast at 2pm and costume contests for all ages throughout the day. Stay tuned to the Main Street Kent website and social media for details in the coming weeks. Par for the Curse, a putt putt golf event, will take place on Saturday from noon to 5pm, featuring wizardly-themed miniature golf holes at participating businesses. Play golf and stop to enjoy the other attractions and treats along the way! Tickets are available at https://www.eventbrite.com/e/2022-par-for-the-curse-putt-around-downtown-tickets-361719632157. At the Hometown Bank Plaza, there will be wand making with Kent Junior Mothers, the Kent State Soaring Black Squirrels quidditch team will host a free activity, and the organization Harry Potter Ohio will have a booth, plus there will be a community painting activity and more, from 11am to 5pm.
New to the Wizardly Weekend this year, Bell Tower Brewing will host the inaugural Bell Tower Ball, an adults-only, formal event on Sat., July 23, complete with cocktail concoctions, potions, magical hors d'oeuvres, sweets and activities and — most importantly, a dance! Tickets to this private event go on sale Wed., June 15 at noon; at https://www.eventbrite.com/e/bell-tower-ball-tickets-367072462617.
"The Wizardly Weekend event format has evolved over time and we're really excited to bring the event back with a good balance of fun activities that entertain guests and support our local businesses. We'll have one road closure for a vendor area during the day on Saturday, plus photo opportunities and activities spread out around town on both days. We look forward to hosting another fun-filled weekend in Kent," said Main Street Kent executive director Heather Malarcik. For more information, please visit https://www.mainstreetkent.org/events/wizardly-weekend/.
Main Street Kent is a non-profit organization focused on the revitalization of downtown Kent. It is an affiliate of the national Main Street program and the Heritage Ohio program.
###
PRESS RELEASE SUBMITTED BY:
Contact: Heather Malarcik
Main Street Kent
Phone: 330-677-8000
Email: heather@mainstreetkent.org